Toward a Minor Tech - workshop & publication
Toward a Minor Tech is a research workshop and publication that thinks through the 'bigness' of data and technology, and the potentials of a small and minor (or minority) tech that operates at human scale. 'Toward a Minor Tech' took off in January with a three-day workshop in London and concluded at transmediale festival in Berlin on February 2, launching a shared publication.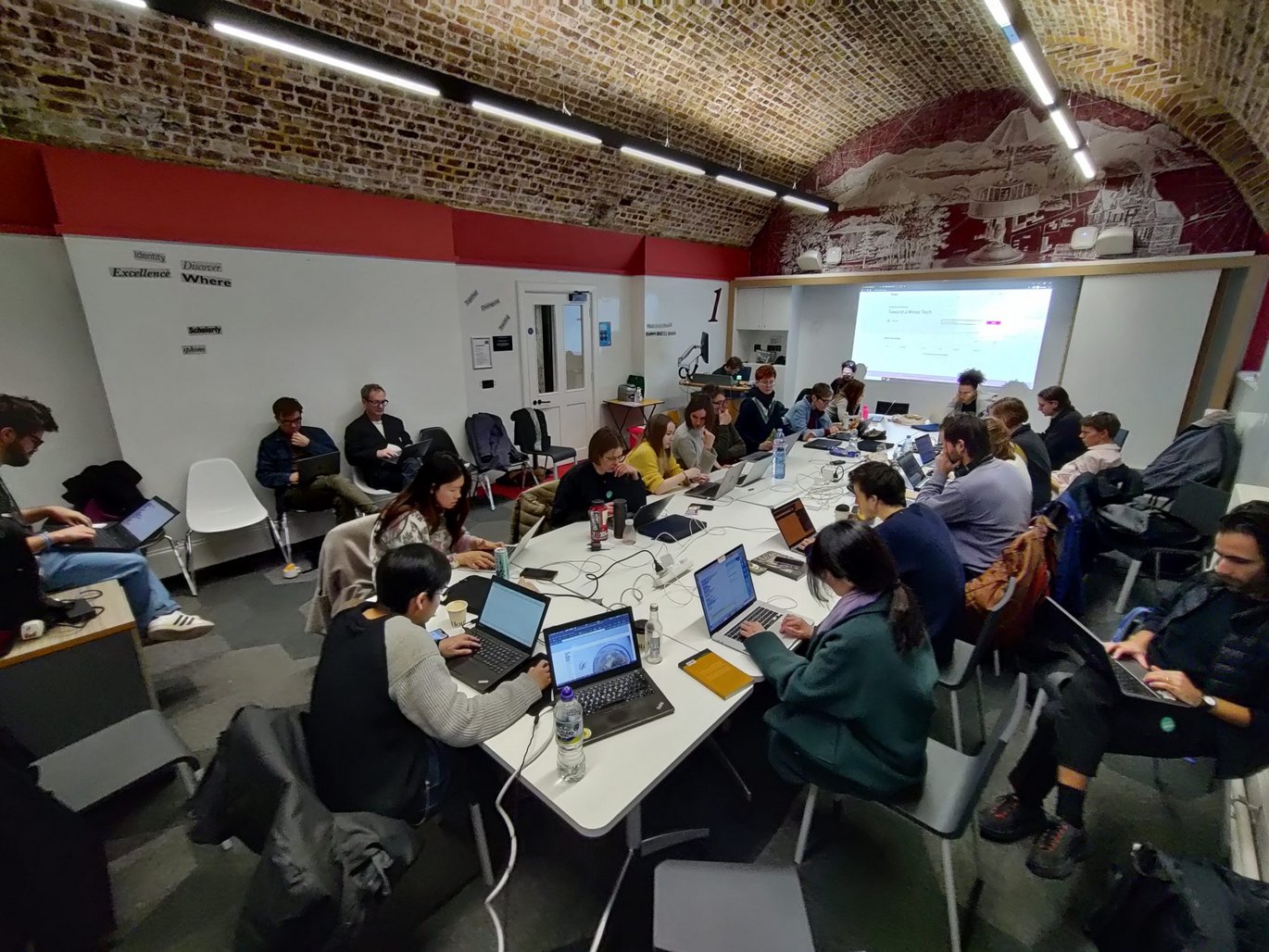 The three characteristics of minor literature are the deterritorialization of language, the connection of the individual to a political immediacy, and the collective arrangement of utterance. Which amounts to this: that "minor" no longer characterises certain literatures, but describes the revolutionary conditions of any literature within what we call the great (or established). [1]
– Deleuze and Guattari, "Kafka: Toward a Minor Literature"
'Toward a Minor Tech' initiated in London with a three-day workshop on January 18-20 taking the notion of 'scale' in a technological context as its point of departure in alignment with the 2023 transmediale festival's focus on "how scale sets technological conditions and expectations that cement the positions from which we perceive the world." [2]
More specifically, the workshop explored and questioned universal ideals of technology and its problems of scale – including big data, machine learning, artificial intelligence, cloud computing, blockchain mining, and how they relate to the global organization of labour, extractions of natural resources, exploitation, energy consumption, and more.
As our technological systems scale up, what is their impact on affect and emotion? Can scale bring together new material and cultural assemblages between humans and nonhumans, ecology, and technological infrastructure and systems? How do the universals of technology relate to minor practices and collective action (for instance, trans-feminist or decolonial)? [3]
The workshop was specifically targeted toward PhD/early career researchers who were invited to present proposals and engage in collective writing experiments during the workshop days. Finally, the workshop participants produced a print newspaper based on the workshop discussions and extensive peer exchange which will be presented at the transmediale festival on February 2 at Akademie der Künste in Berlin. The publication contains a number of short articles which will be extended in the coming issue of APRJA, an open-access research journal on contemporary digital culture, to be published in the summer 2023. A digital version of the newspaper can be accessed here.
Another objective of the workshop was to consider the notion of scale and "minor tech" in terms of research by considering the relation between current technical conditions and sustainable research practices.
Transmediale is an annual festival bringing together international artists, researchers from various disciplines, thinkers, and activists working on art, digital culture, and socio-political transformation.
PARTNERS
Center for the Study of the Networked Image
Transmediale festival for art and digital culture, Berlin
King's College London, KCL Digital Humanities
PRESENTATIONS BY
Camille Crichlow, Teodora Sinziana Fartan, Jack Wilson, Susanne Förster, Alasdair Milne, Inga Luchs, Inte Gloerich, Edoardo Lomi & Macon Holt, ooooo, vo ezn, ai carmela netîrk, nate wessalowski (Feminist Servers), Shusha Niederberger, Roel Roscam Abbing, Yasemin Keskintepe & Sasha Anikina (xenodata co-operative), Sandy Yu, Mateus Domingos, Freja Kir, with Christian Ulrik Andersen, Daniel Chávez Heras, Geoff Cox, Søren Pold, Magdalena Tyżlik-Carver, Gabriel Menotti, Manetta Berends.
[1] Deleuze, Gilles, and Félix Guattari. Kafka: Toward a Minor Literature [1975], Translated by Dana Polan. University of Minnesota Press, 1986.
[2] https://transmediale.de/en/news/transmediale-2023