Playing Computer Games: Somatic Experience and Experience of the Somatic

Henrik Smed Nielsen
Digital Aesthetic Research Center, 2012, 278 pp.
DKK 150,- / kr149.2,-
ISBN 87-91810-21-3
Available here as paperback:www.amazon.co.uk/Playing-Computer-Games-Somatic-Experience/dp/8791810213/ref=sr_1_1
First written as a PhD dissertation in 2011, the book investigates the bodily dimension of the computer game experience – based on the overarching thesis that computer game-play is a bodily founded and bodily savoured activity. Apart from the 'trivial' fact that the player needs a body in order to grasp the controller, the player also senses his/her body working through the visceral 'feel' of the game. Assuming a phenomenological and somaesthetic perspective, the book addresses the bodily experience of playing computer games, theoretically and analytically covering the spectrum from 'traditional' controller-based computer game experiences to ones that require 'full body' gestures. Simultaneously being bodily engaged in the game and reflectively aware of this engagement (a somatic experience and an experience of the somatic) is suggested as the aesthetic form that computer games rely on, as well as play with.
"Det æstetiske interface – Computerspillet i en interfacekultur og interfacet i computerspillet" [DANISH]
Christian Ulrik Andersen
Digital Aesthetics Research Center, 2009, 260 s., ill.
DKK 150.00
ISBN 87-91810-09-4
Paperback:
www.saxo.com/dk/item/christian-ulrik-andersen-det-aestetiske-interface.aspx;
www.bod.dk/index.php
Download: darc.imv.au.dk/wp-content/uploads/2009/08/andersen_aestetisk-interface.pdf
Website: darc.imv.au.dk
Et æstetisk interface er et interface, hvor oplevelsen af interaktionen selv er i centrum. Det mest dominerende eksempel i interfacekulturen er computerspillet. Denne bog gennemgår computerspillets historie som æstetisk interface fra begyndelsen i 1962 med Spacewar! til aktuelle spil som Metal Gear Solid. Samtidig rummer den en teoretisk ramme til at forstå computerspillet som æstetisk interface – dets rum og dets sprog – med inddragelse af sproghandlingsteori (Austin og Benveniste) og moderne æstetisk teori (Benjamin, Deleuze og Heidegger).
Networking, The Net as Artwork (ENGLISH)
Tatiana Bazzichelli
Digital Aesthetics Research Center, Aarhus, [2006] 2008. 336 pp., ill.
DKK 169.00/kr171.58
ISBN 87-91810-08-6
Download: darc.imv.au.dk/wp-content/files/networking_bazzichelli.pdf
Paperback: www.bod.ch/index.php
Website:www.networkingart.eu/english.html
Networking means to create nets of relations, where the publisher and the reader, the artist and the audience, act on the same level. The book is a first tentative reconstruction of the history of artistic networking in Italy, through an analysis of media and art projects which during the past twenty years have given way to a creative, shared and aware use of technologies, from video to computers, contributing to the creation of Italian hacker communities.
The Italian network proposes a form of critical information, disseminated through independent and collective projects where the idea of freedom of expression is a central theme. In Italy, thanks to the alternative use of Internet, during the past twenty years a vast national network of people who share political, cultural and artistic views has been formed.
Antithesis: The Dialectics of Software Art (ENGLISH)

Geoff Cox
Digital Aesthetics Research Center, Aarhus, [2006] 2010. 232 pp.
DKK TBD/EUR TBD/UK£ TBD
ISBN 87-91810-15-9
Download: antithesis
Paperback: TBA:
Website: www.anti-thesis.net/anti-thesis.php
First written in 2006 as a PhD submission, the book argues that software art praxis can offer new critical forms of arts practice by embodying contradictions in the interplay between code and action. Contradiction is also embodied in the form the text itself takes, as both a conventional piece of academic writing and a script written in Perl. Together, it presents an argument about software art that is simultaneously an example of software art. Crucially, both the thesis and the program can be interpreted and acted upon.
read_me: Software Art & Cultures, Edition 2004 (ENGLISH)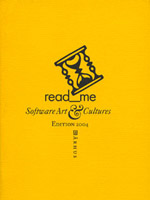 Olga Goriunova & Alexei Shulgin (eds.),
Digital Aesthetics Research Centre, Aarhus, 2004. 397 pp.
DKK 248/kr253.26,
ISBN 87 988440 4 0
Available through Aarhus University Press:www.unipress.dk/en-gb/Item.aspx
Software art is a practice that regards software as a cultural phenomenon that defines one of the principal domains of our existence today. Thus, software is not regarded as an invisible layer, but rather as a decisive level and a language working at reproduction of certain orders, whether aesthetic, cultural, social or political. Software art creatively questions and redefines software and its ways of functioning.
Software cultures as cultures generated by programmers, designers and software users are generous sources of avant-garde thinking on digital culture and society. Software cultures define the way software is created and functions, thus, influencing on composition and functioning of the basic infrastructures of digital society. In that way, software cultures become inseparable (though largely underestimated) from the form digital work, social institutes and cultural manifestations take today. Software cultures initiate social change, act in political spheres, create and discover new artistic realms and methodologies.
Contributions by: by Amy Alexander, Christian U. Andersen, Inke Arns, Hans Bernhard, Brad Borevitz, Christophe Bruno, Nick Collins, Geoff Cox, Andreas Leo Findeisen, Matthew Fuller, Pau David Alsina Gonzalez, Olga Goriunova, Dave Griffiths, Troels Degn Johansson, Anne Laforet, Fátima Lasay, Jacob Lillemose, Alessandro Ludovico, Alex McLean, Fredrik Olofsson, Douwe Osinga, Søren Pold, Casey Reas, Julian Rohrhuber, Annina Rüst, Mirko Schaefer, Alexei Shulgin, Ewan Steel, Janez Strehovec, Adrian Ward, Ernst Witt & Simon Yuill
D-Day på kasernen. 7 foredrag fra konferencen
"Æstetik og Digitalisering: Tradition eller Revolution?" [DANISH]
Lars Kiel Bertelsen & Søren Pold (red)
Æstetiske fag, Center for Multimedier, Aarhus Universitet, Aarhus, 2001. 88 s.
ISBN 87-988440-0-8
Download: darc.imv.au.dk/wp-content/files/D-Day.pdf
Artiklerne i denne bog er en let bearbejdet version af de indlæg, som blev givet på konferencen Æstetik og digitalisering: Tradition eller revolution?
Konferencen fandt sted den 12. oktober 2000. Indeholder bidrag af Søren Pold (Litteratur i nettet), Jacob Wamberg (Byen som hyperbillede), Morten Breinbjerg (Lydens æstetik – kroppens musik), Torunn Kjølner (Digitalt teater – erfaringer med at skabe rum, Henrik Kaare Nielsen (Digitaliseringen og kulturen),  Kjetil Sandvik (Mod et multimedieæstetisk begrebsapparat), Karin Petersen (Art Techno – Den digitale anarkist)